The journey from idea to reality…
I have been racing a boat called a Flying Fifteen for years with my great friend from Uni, but decided that a change of pace was required, I wanted to spend more time sailing with my family – wife Jo and kids of 10 and 12. I started doodling the kind of boat that I was looking for and even pondered designing and building one myself. As I thought through the idea, I realized that it probably already existed and I could most likely buy one second hand.
Safety first
I wanted something safe enough to sail with the family but fast enough to be fun. I sail in Poole Harbour, so wanted a lifting keel to creep into all the secret anchorages. 4 berths were required for an overnight trip, a basic galley and a portaloo. Eventually I narrowed it down to about 3 or 4 types of boat built in the 80's and 90's. They were all fiberglass, about 25 feet long and weighed between one and a half and two tonnes.
I spent months scouring rumage.com, Apollo Duck, lots of marina websites and the bulletin boards at the local sailing clubs. I saw a few, but none quite right. Eventually I hit on the idea of looking at the websites of the Owners Associations for the types of boat on the shortlist. The Trapper Yachts Owners Association had a particularly good bulletin board and sure enough there were a few adverts……however all two years old or more. Not to be deterred I started ringing them up. The first two calls were nice conversations, but the boats had sold, third one …Bingo.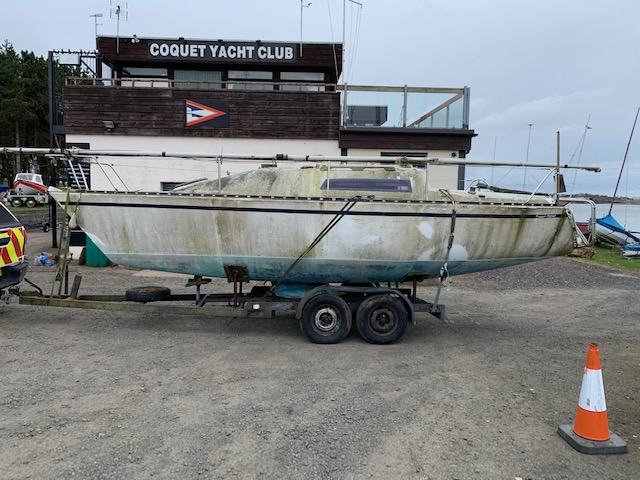 Having bought her the owner had never sailed her but stored her for four years in the yard. The downside was that she was in Northumberland – over 400 miles away. I arranged with Jack to do a COVID-Safe Facetime viewing (my brilliant wife's idea). The boat was green with mould, and I have to say did look a bit sorry for herself. Inside was a bit grubby but as he talked and showed me more, I got the idea that she was all there and most of the issues were superficial. I got Jack to knock on the hull, and there didn't seem to be any soft spots, he showed me some stress cracks and they didn't seem to bad for a forty year old boat…so… how much? …..£750…!!!
Decision time
Jack seemed to be straightforward and honest so I took a chance to buy it unseen, it was worth the risk of a single trip.
She was sitting on a trailer but hadn't moved for a long time so a few calls later uncovered the local tractor dealer who was only too happy to service the trailer. I went off and rented a pickup for the first weekend out of lockdown and drove to Northumberland.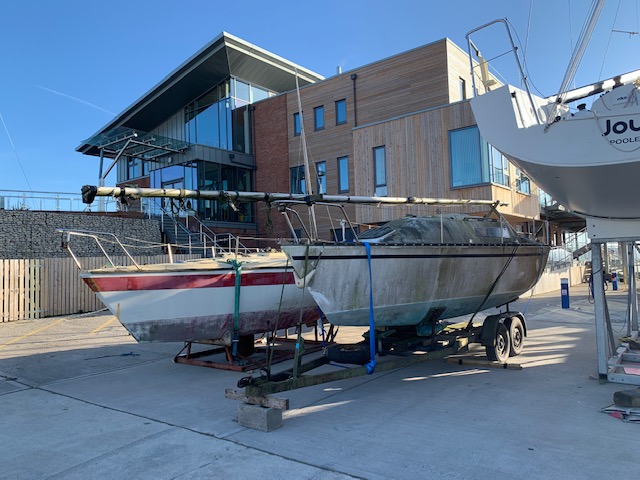 Apart from some last-minute rewiring on the trailer board the trip was hitch free and I got back on Sunday night to my boat club in Poole. The yardmen showed their sense of humor by parking me next to the biggest and smartest racing yacht in the club. It's worth about 1000 times more than BoobyTrap! I thought the owner might be a bit sniffy, but nothing could have been further from the truth. He came down for a chat, helped me get the boat into her space and congratulated me on the purchase.
Then the hard work started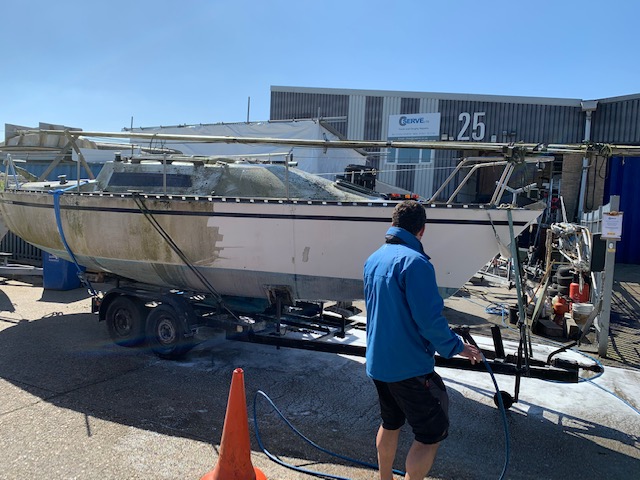 I emptied the boat. Everything from anchors and safety gear to the coffee that had been left in her four years previous. A mouse had got into one of the bunks and made a bit of a mess and a horrible smell. Next, a hot wash. It was incredible how the dirt, algae, old varnish, loose paint (and a few fittings…oops) all came off. She transformed in front of my eyes.
Down below next
All the cushions were treated using a commercial carpet cleaner and de-oderiser. That was amazing. They came up a beautiful blue, with no reminders of "eaux de dead mouse". Inside we scrubbed from front to back while the cushions were drying out. Floorboards that had damp trapped underneath them came out with a bit of persuasion and revealed a slightly less decorative but very clean and functional non-slip floor. We mopped out the bilges and scrubbed some more. The only hiccup was scrubbing out a plastic container and noting that my hands were tingling. It turned out to be the battery box…. I assume some acid had got loose at some time in the past. No damage done after a quick wash.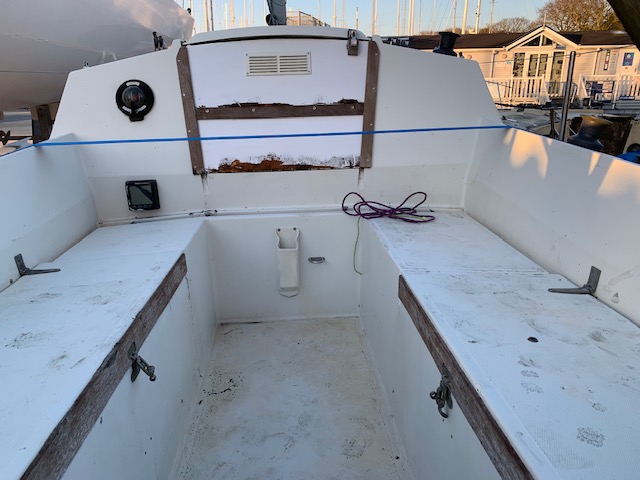 All hands on the boat deck
Once cleaned and the cushions were back in, it was up on deck again. The rigging was inspected, and Jack's words came true. It was nearly all fine, and the only thing that needed replacing was the backstay. A few mates helped me get the mast up and she is starting to look good. I had to improve some of the rig systems. Rumage did give me the answer here. A big block for the backstay adjuster would have been over £100 new was sourced for £30. And another couple of blocks for the control lines were also about 1/3 of the new price. I did find some replacement winches too. Jo serviced the existing ones, so they will do for another few years.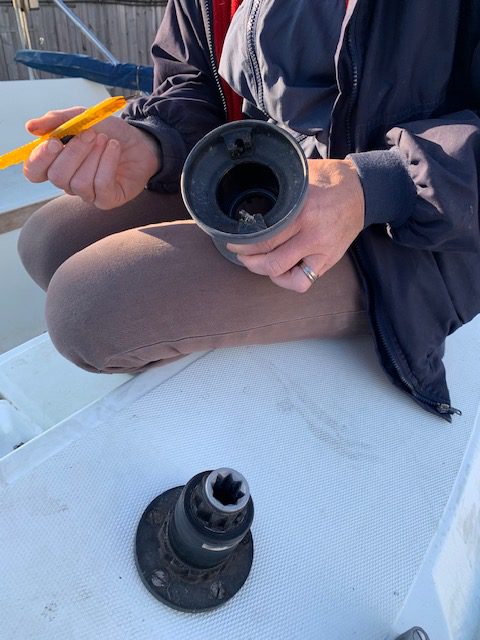 Next the paintwork. I sanded the bottom off and put new antifouling on (paint for the bottom of boats that stops the weed growing). I sanded the rudder, filled some of the scrapes and painted with polyurethane paint. This weekend I hope to finish the hull off and get that last bit painted.
All thats left now to do is to put all the safety equipment back on board and finish off fiddling with and checking the electrics. I need to get the sails up to check they work, and collect a second-hand outboard I have found. At half term, she should be launched and out to the mooring.
Even with the cost of renting the pickup and going to get the boat from Northumberland I will have got a lovely little boat on the water for less than £2000. She isn't pristine, but she looks OK and I think she will sail just fine.
Back to the sea
A great new life for a lovely boat, and a satisfying upcycling project. Bring on the summer, lots of fun to be had with friends doing nothing much, just messing about in boats!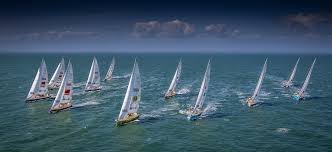 Liked this you might like Give a boat a new life this summer.